Bi Nasnamê YPJ Re Baweriyek Pir Mezin Hat Ava Kirin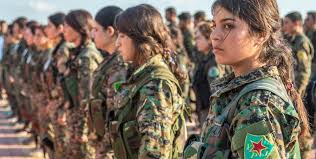 Bê gûman çarê Nîsan' ê pêşiya me ye. 4 Nîsan' ê rêberê gelê Rojhilata Navîn e. Di serî de em wê rojbûnê, wekî rojbûna gelan pênase dikin. Heman demê wek rojbûna jin jî pênase dikin. Jina windahî, jina dîrokê de bi çend kesan re navê wê hatiye nivîsandin lê xwedî kijan çande, xwedî kijan afrînertiye berhemê wî di nava jiyanê de, rastiya wateya wî bi jiyanê re çiye di rojbûna rêberê gelê Rojhilata Navîn, rojbûna gelê mirovahiyê di şexsê Rêber Apo de ev jin derdikeve nasnameyekî jib o wî em wî rojbûnê di serî de Rêber Apo, afrînerîn, heman demê rojbûna jina azad rojê lê pîroz dikin û, 4 Nîsanê de damezrandina YPJ hat lidarxistin. Wekî hêzên parastinê, jinên bi çêk, jinên parazvanên axê, parazvanên gel, parazvanên hebûnê ev jin vêjina wê çêbû.
Di cihan de îlhamên ku dihatin girtin. Pir kêm jinên ku di nava artêşan de wekî kesan xwe bi rexistin kiri bû, minakê wî herî ber bi çav Sosyalîzma Pêkhatî ya Yekîtiya Sovyetê bû lê ev jî bê gûman gelek mijara de cûdahiyê me heye. Wek leşkerbûyînê ev jî di nav artêşa Sovyetê de xwe cîh kiri bûn lê wek pîvan, wek tevgera azadiyê fikir û ramanên azad gûhertinên me wan henin. Ji bow ê jî wek nasname YPJ yek deketina dijminê mirovahiyê de xwe înşa kir, dijminê ku tirs û kuştin bi maskeyên îslamê xwe derxistin ortê û tirsekî mezin di dilê gelan didin ava kirin, bi xeyalê îslamê dewleta Daiş damezrandina YPJ vejina wî wir de çêbû lê yê wî defand hîn zêdetir vejînekî bi zû çêbibe jinên ezîdiyên ku hatin rêvandin û zehmetiyên herî jorê de hatin kirin. Kêleka wî jî vejîna xwe Rojavayê Kurdistanê de, Rojavayê Sûriyê de ava kir lê ev bû wek minakek tevahiya Rojhilata Navîn ji ber ku bû navenda îlhamê, bû navenda lêkolînê, bû navenda herkesî xwast bibîne rastiya wî, pîvanê wî, sekna wî jiyanê û lêgerîna wî jiyanê  çiyê xwast wana jî fêhm bike. Ev jî gelên ecnebî bin, ji gelên ereb bin ji ber ku avabûyînekî pir  netewa de xwe ava kir. YPJ bi keçên xweyên olên hirîstiyan, yê olên îslam, yê olên yêzdanî hwd. bi netewên cur be cur avabûyîna YPJ çêbû. Bê gûman ev avabûyîna YPJ, wekî pir olî, wekî pir netew xwe di hûndirê wî de esasî wî legerîna kes e. Ji ber ku em wekî Jin hebûnekî di jiyanê de, heya pîvanê wî diyarker, orf û adetî civakî heye an jî hinek tiştên ku jin re hatine înşa kirin jin wî heye lê dervayî wî jinx we bi çek bikin, jin ji bo nasnamaya xwe têkoşîn biken ango gel jin berhem çiye û rastiyên di dîroka mirovahiyê hatiye meşandin çiye, ev ne kesî pênase dikir û ne kesî wî derdixist holê. Tevgerîn hebûn lê tevgerînin pir kêm, pir kurt û bi dîrokî înşayekî ku jin wek pêvajo tê de derbas bin, çinin, çawanin berfirehiya wî derneket. Lê avabûyîna YPJ de wek rastiyekî leşker, wek ratiyekî hebûn herdû mil xwast bi hev re bide meşandin. Me mînakî wî da yekîtiyê Sovyetê girêdanê netew tenê yê YPJ ne tenê girêdanên netew bi wê re rastiya jin û berhemên ku jin di dîrok de ava kir, lêgerîna wî ye jî. Ji bo wî jî gelek pirsgirêk rastiya jin ve eleqedar wek girêka kor lê tên. Ji ber ku gelek felsefe, felsefecî, ilimdar cur be cur pênaseyî jin kirin lê felsefeya Rêber Apo de û rastiya jina Rojhilata Navîn de yê ku di nav wî êşê de xwe ava kir, xwe mezin kir wê rastiyê baştir derdixîne hole û jin kiye, çiye û çawa jiyan kiriye. Ji bo wî YPJ dibe nasname hebûn, YPJ dibe nasname heqîqetê, YPJ dibe nasname berhem, YPJ dibe nasname civak, YPJ dibe nasname Jin. Ji ber ku gelek milên de em xerîbên xwe bûn. Di warên bedensel, fizîkî hebûnekî jin hebû lê belê wrê fikir û raman de biryar de, tevlîbûyîna xebatên siyasî de û gelek mijarên grîng yê ku civak re elaqeder dibe jin mehrûmê wê bû lê niha nasnama YPJ de baweriyakî pir mezin hat ava kirin. Jina ku dixûliqîne, jina ku cesareta bê dawiye, jina ku îradeya xwe heye, jina ku jib o gelê xwe her tiştê xwe dide ber bi çav, jina ku dibeje rih û cane min tiştek zêdetir heba fedayê wî gelê bikira her wiha jina ku heya dawî bi fikir, bi vîn, bi hêz tevdigere xwe rêxistin dike û bi bandor dike. Tesîrekî xweyê pir mezin di nav civakê de heye. Kombûyînê ku avabûye him bala cîhanê dikşîne him jî kombûyîn derdorê xwe de ava dike. Ji ber ku em serdemêkî wisa de ne ku jin we bi artêş neke nikare mafên xweyên dîrokî ji dest bixe. Ji ber ku çanda baviksalarî, aqilên baviksalarî jin hebûnekî tenê xwedî mal derdikeve, hebûnekî zarok anîn dibîne lê wek hebûnekî rûh, wek hebûnekî vîn, wek hebûnekî aqil, fikir ev tişt jin de nehati bû dîtin. Ji bo wî jî YPJ dibe ava kirinê wî jî. Jin xwe bi artêş dike ji bo bikaribe serdema baviksalarî ku aqiliyeta wî hişk bûye, aqiliyeta wî ku jin ne fizîkî tenê lê îro gihîştiye asta fizîkî jî wî dixeniqîne û ware fikir û raman de jî wî dixeniqîne hebûnekî leşkerî a jin dibe xwedî derketinekî vina jin jî. Ji ber wî ji jin bêje ez xwe di ware siyasetê de rexistin bikim, xwe ava bikim, berfireh bikim, ez di wê mile de tenê têkoşîna azadiyê bikim ev kêm be. Mile wî yê leşkerî gerek bê gûman hebe. Ji ber ku pênaseyên leşkeriyetî jî cur be cur hatine kirin. Di serdemekî wisa hebûnek leşkertî nin be kes qedir û qiymet nade te, kes li peyvê te jî gûhdar nake, biryarên ku tu dixwazî bigrî jî gûhdar nake û projeyên ku dixwazî ava jî bikî gûhdar nake. Îro hebûna jin, nefesek tê girtin û bi tesîr dibe ango wekî hebûnek tê qebûl kirin jî, bbi bandor jî dibe ji leşkerbûyîna xweye. Ji ber wî leşkeriyet ji bo Jin ne tenê tetîk teqandine, ware ziman de jî biryarên heyatî girtine. Ji bow ê jî em wek hebûnekî YPJ, wek mîlîtanên YPJ deyndarê avakerên wî fikrî ne. Ev fikir jî fikra Rêber Apo ye. Rêber Apo got me pê re çavê xwe vekir û zanista me pê re pêş ket û bê gûman eê deyndarên haevalên xweyên jin yê şehîdin. Ji ber ku şehîd me gîhandin wê astê. Şehîdên ku li Berxwedaniya Serdemê de hatin dayîn, şehidên ku berxwedaniya Kobanê de hatin dayîn, şehîdên ku bi bost û bost axa Rojava bi xwina xwe ve av dan û me gîhandin wê rojê em deyndarê wan şehîdan e. Soz û biryarê me hertim ji bo wan şehidan nû bikin û tu carî xwestek û armancê wan şehîdan erdê namîne. Ji ber ku şehîd me xwestên em jinê pêş bixin, jin bi vîn bikin, bi nasname bikin, jin bikeve bi ferqa hebûna xwe de. Ev daxwazê şehîdane, em jî wekî ku şopdarê şehîdane emê wan xwesteka şehîdan bê gûman erdê nehêlin, pêk bînin û ev soz û biryarê me ji bo şehîdên me ye.